If you're looking into visiting the Lake District, it's likely you've heard about the Lake District National Park. This covers the majority of the land inside the Lake District. That being said, there are many beautiful and famous spots of the Lakes that are outside the park which are also worth visiting.
If you're interested in learning a bit more about the Lake District National Park, here is a brief guide to its story, some facts and figures about the area, as well as tips on where to stay and what to do once you've arrived.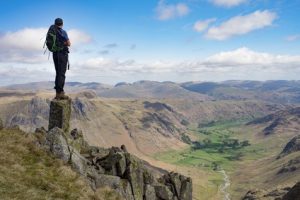 Whether you're planning a walking trip, a family holiday or a romantic weekend away, the Lake District National Park has something for everyone, especially nature lovers.
A Brief History of the National Park
The area has been a national park for over 60 years. First open as a park in 1951, the area covers an area of approximately 912 miles² (2360 kilometres²), and includes mountains, rivers, lakes, fields, grassy slopes, ancient woodland and striking rocky outcrops. The rugged yet utterly British landscape is visited by millions of eager tourists from around the world to appreciate outdoor activities and the breathtaking views that are unlike anywhere else in the UK.
It is by far the most popular National Park in Britain and was created to restrict undesirable changes and protect the flora and fauna within it. The pristine landscapes are partially due to the conservational efforts of charities and other organisations who own land there. These include The National Trust, The Forestry Commission, United Utilities and local farmers.
Although Kendal is not within the boundaries of the National Park, this is where the head offices are located. If you want to find out more information about the park, you can go to the main visitor centre in Windermere, with others in Coniston and other locations. Addresses and contact information can be found here.
There are plenty of car parks and adequate vehicular access to many of the main sites, paths and byways. Walkers, hikers and climbers can enjoy exploring hundreds of miles of public footpaths, byways and treks. However, as can be expected from a national park, access to agricultural and private land is restricted.
The Best Places to Stay
If you're looking for somewhere to stay in the Lake District National Park, there are lots of options to choose from depending on your chosen destination, the activities you want to enjoy while you're there, your budget and the amount of time you want to stay.
For spectacular views of nature in supreme comfort, stay at one of the Lake District's luxury hotels. Alternatively, enjoy a wholesome experience at a B&B, or rent a private cottage, lodge or log cabin. If you want to feel closer to nature, there are many campsites and glamping companies which are perfect for those who love the outdoors but like to feel cosy and comfortable too.
Things to Do
There are many things to do that are unique to the National Park. If you're eager to explore the great British outdoors, the Lake District National Park has a feast of outdoor activities to satisfy everyone from the biggest thrill seeker to the photography enthusiast. From casual strolls besides its lakes, to more challenging hikes through the craggy mountains, the walking, hiking, climbing, abseiling, gorge-walking and scrambling opportunities are plentiful and there are lots of free walks as well as guided tours to enjoy.
If you're travelling as a group or with a family, there are lots of activity centres and fun adventure days for little ones, young people and beyond. Enjoy treetop trampolining, zip wires and rope assault courses that are great for team building exercises and working up an appetite. If the weather is cold or wet, you can take part in indoor activities such as archery and indoor climbing.
The National Park is also home to many great places to eat, with cafes, pubs and restaurants to enjoy an international-quality meal, much of it sourced locally, along with something to drink after an active day outdoors.
Info for National Park Visitors
The Lake District National Park is a protected area, and there are certain things that all visitors should keep in mind in order to preserve its natural beauty and make sure the ecosystem remains sustainable.
Do not drop litter anywhere in the park, even if it is biodegradable and make sure you don't accidentally bring anything that could potentially affect the ecological balance. This can happen if you accidentally bring alien insects on your clothing, or, when fishing, if you use live bait that isn't indigenous to the water.
Take nothing away and leave nothing behind is the best way to remember how to treat this beautiful natural world.